Company Name: Vallourec
Location: Glasgow (UK)
Eclipse Product Installed: AM6 Automag Skid
Industry: Offshore
Process Type: Ultrasonic Testing
Our Client
Vallourec is a leading manufacturer of premium tubular solutions primarily serving the energy markets. The plant designs, develops, and manufactures a comprehensive range of products for the offshore oil and gas industry, including steel pipes to be used as drill collars. Drill collars are manufactured to specifications to meet and/or exceed API specifications. The plant processes 3500 units of carbon steel pipe per week, which include pipes of anything from 4" to 16" in diameter, and up to 14.7 metres long.
The Challenge
Due to the tight tolerances required by the off shore industry, it is imperative that the quality of the pipes is 100%. Product rejects can cost £1000 per piece and the consequences of a fault in the field can have huge compensation consequences. In order to ensure the highest levels of quality, the pipes are sent through a tempering, descaling, rounding, and straightening process. The last stage is an ultrasonic testing procedure to check for any faults such as cracks or wall thickness irregularities. During this process, water is pumped around the ultrasonic test area at 100 litres per minute. Water is an excellent sound wave conductor, therefore it improves the reliability of the readings and makes the process more efficient. However, contamination in the water was affecting the readings, causing slow cycle times due to re-scanning and the possibility of a good product being rejected. Contamination caused a build up around the axles on the heads which rotate the pipe line, causing them to seize up. Previously the process required the use of a sand filter, 2 bag filters and a hydrocyclone, each needed cleaning and changing twice in every shift. When the filters became clogged with contamination it caused the water pressure to drop, which automatically stopped the line. Continous stop-starting allowed air bubbles into the process which affected readings. To put this into perspective, downtime costs the plant £60 per second. To overcome the contamination and downtime problem they used fresh mains water rather than recycling, at a cost of over £1000 per week.
The Solution
Eclipse provided Vallourec with a Double Automag AM6 magnetic filter. This filter is a fully automated unit ideal for 24/7 machining operations. With high contamination collection capacity and an ability to handle high flow rates, Automag is widely used on high volume production lines. In this case the customer opted for a Double Automag in order to have a failsafe backup if required. The Automag was fitted during a system refurbishment which enabled the process to recycle water. It is fitted after a settlement tank and before a band filter, and extracts 0.56 kg of waste per day. Most of the particles are concentrated between 6 and 15 microns, and the added advantage is that some particles which previously slipped through (less than 4 microns down to sub-micron size) are now extracted. Since fitting the Automag, Vallourec's maintenance downtime has dropped to zero. It also means that the company are able to use recycled water, which saves them £1000 a week. Vallourec have kept a band filter for non-magnetic contamination, but this has had the same roll on it for 1 year without needing to be changed. They have also been able to abandon the sand filter, bag filters and hydrocyclone entirely since the installation of the Automag. See how magnetic filtration compares to other types of filter.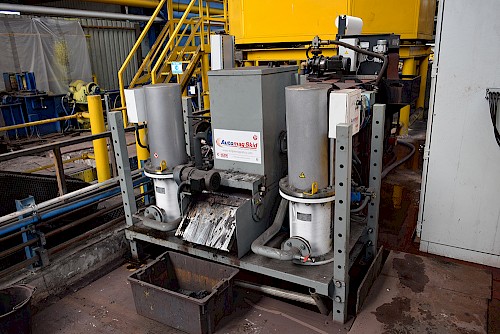 .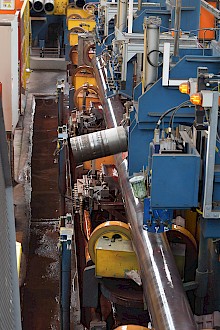 Vallourec's Principle Engineer Kenneth McRae commented "We are delighted with the Automag installation; it's solved all the problems we were having previously with downtime and maintenance costs. The filter means that we are able to use recycled water, which is saving us £1000 per week!"
Find out more about Magnetic Filtration or contact us for more details
"We were delighted with the service provided by Eclipse Magnetics; from the initial site survey through to delivery."
"I cannot begin to tell you how much it has helped our operation, the magnetic filtration unit has been a real problem solver it has surpassed all our expectations. Its cured a 30 year plague!"
"This technology is economical, reliable and efficient. I believe that magnetic filtration technology is the future."
"Magnetic filtration has dramatically cleaned up our fluids and improved the surface finish we can offer. It extracts around 50Kg per day of ferrous waste."
"We chose Eclipse Magnetics to supply our housed grid because they are a respected and well-established brand. They offered us a very competitive price, and the process of ordering and installation was straightforward and reliable."
"We are delighted with the Automag installation; it's solved all the problems we were having previously with downtime and maintenance costs. The filter means that we are able to use recycled water, which is saving us £1000 per week!"
"Here at Qualflow, we base our business on a philosophy of make the product simple to use, reliable and cost-effective. Eclipse Magnetics' neodymium magnets offer the strongest magnetic performance, and are nickel plated, making them a cost effective.."
"The Ultralift Plus magnetic lifter from Eclipse Magnetics is the perfect solution for the pick-up and transportation of the ultrasonic calibration blocks in our facility"
"The result is an aesthetically pleasing system, which is effective in trapping metal contaminants and is easy to clean..."