Maximise MetalWorking Fluid with a Green Solution from Wogaard and Eclipse Magnetics
Expert in coolant saving solutions Wogaard has joined forces with high performance magnetic filtration specialists Eclipse Magnetics to launch a revolutionary, environmentally friendly solution to maximise coolant and oil during manufacturing.
The MagSaver Kit
The new MagSaver Kit combines Wogaard's award winning coolant saver with Eclipse Magnetics' compact magnetic filter; the MicroMag, to save up to 50% of coolant and oil, and clean it at the same time. The Coolant Saver from Wogaard automatically reclaims coolant dragged out into the swarf bin from the conveyor while the machine is in operation, whilst the MicroMag compact magnetic filter with high collection capacity removes fine particle ferrous contamination.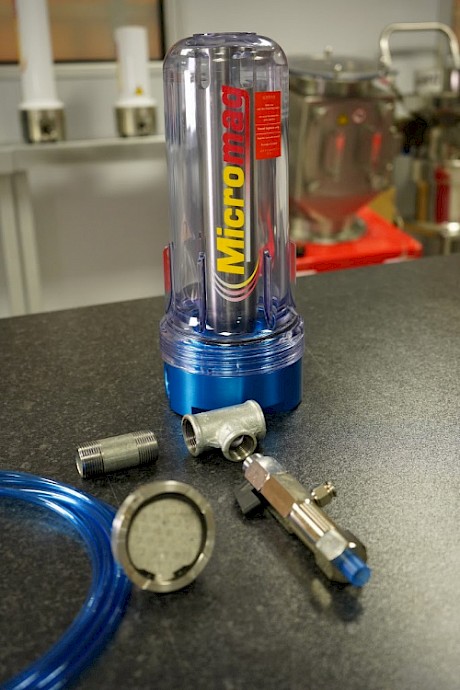 Reduce the Environmental Impact of the Manufacturing Process
Jason Hutt, Managing Director at Wogaard Ltd said: "We are really pleased to announce this new exciting collaboration. Our products work together fantastically well to reduce the environmental impact of the manufacturing process and significantly reduce disposal costs. By minimising waste and fluid disposal, the MagSaver kit can also contribute to ISO 14001:2015 compliance, helping companies manage their environmental responsibilities."
Extend Fluid Life Significantly
Nigel Hampson, Sales Manager at Eclipse Magnetics said: "The MagSaver kit is a great way to significantly extend fluid life; not only increasing productivity and saving money, but helping the environment too. The addition of the MicroMag magnetic filter to the coolant saver effectively ensures that almost 100% of ferrous contamination is removed from the fluid, therefore cleaning your main machine's reservoir and improving coolant quality and life."
Minimises Coolant Disposal Costs up to 90%
The MagSaver kit minimises coolant disposal costs by up to 90%, significantly extending fluid life without the need for consumables. In addition to 24/7 operation and minimal running costs, this fit and forget solution ensures cleaner fluid, therefore minimising health and safety risks through exposure to contamination.
Maintaining Metalworking Fluid - Why is it Important?
The maintenance of metalworking fluid is essential to prevent ill health in machine workshops. In accordance with HSE and COSHH guidelines, magnetic filtration is an effective way to maintain metalworking fluids by reducing contamination, minimising microbial growth, decreasing the need for biocides, and reducing cleaning risks.
The latest restriction on biocide use means that the maintenance of metalworking fluids is now even more important; contamination including swarf metal fines can increase the risk of microbial growth, making its effective removal an absolute must.
Find out More about the MagSaver Kit
For more information on how the MagSaver Kit can help you prolong the life of your fluids, please visit http://www.wogaard.com/magsaverkit.html
Read more about Micromag
"We were delighted with the service provided by Eclipse Magnetics; from the initial site survey through to delivery."
"I cannot begin to tell you how much it has helped our operation, the magnetic filtration unit has been a real problem solver it has surpassed all our expectations. Its cured a 30 year plague!"
"This technology is economical, reliable and efficient. I believe that magnetic filtration technology is the future."
"Magnetic filtration has dramatically cleaned up our fluids and improved the surface finish we can offer. It extracts around 50Kg per day of ferrous waste."
"We chose Eclipse Magnetics to supply our housed grid because they are a respected and well-established brand. They offered us a very competitive price, and the process of ordering and installation was straightforward and reliable."
"We are delighted with the Automag installation; it's solved all the problems we were having previously with downtime and maintenance costs. The filter means that we are able to use recycled water, which is saving us £1000 per week!"
"Here at Qualflow, we base our business on a philosophy of make the product simple to use, reliable and cost-effective. Eclipse Magnetics' neodymium magnets offer the strongest magnetic performance, and are nickel plated, making them a cost effective.."
"The Ultralift Plus magnetic lifter from Eclipse Magnetics is the perfect solution for the pick-up and transportation of the ultrasonic calibration blocks in our facility"
"The result is an aesthetically pleasing system, which is effective in trapping metal contaminants and is easy to clean..."