Open Day Success For Ultralift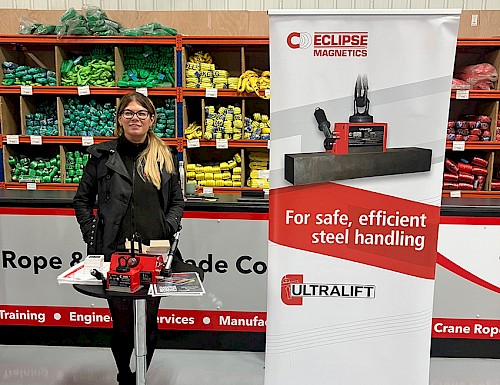 Last week, our Catalogue Account Manager, Kerri Ellis-Greaves, along with our FBR Sales Manager, Martyn Cotterill, attended the Rope and Sling Specialists open day in Rotherham. Here, they had the opportunity to showcase our Ultralift range of magnetic lifters to customers from across South Yorkshire and beyond.
This included the brand new Ultralift E, our new-to-market magnetic lifter. Customers were impressed by the high quality product offered at an extremely competitive price.
Kerri and Martyn were able to speak to a broad range of customers and assist with their lifting requirements, with the resulting enquiries and orders received reflecting the high quality offering of the Ultralift range.
It was meet such a broad range of customers, and to provide solutions to their lifting challenges. We look forward to attending more open days in future!
If you'd like to find out more about our Ultralift range, or to discuss your lifting requirements in more detail, get in touch with our friendly sales team today.