Precision Engineer Sees the Attraction of Magnets.
Precision Engineering Company Benefits from Applying Magnetic Technology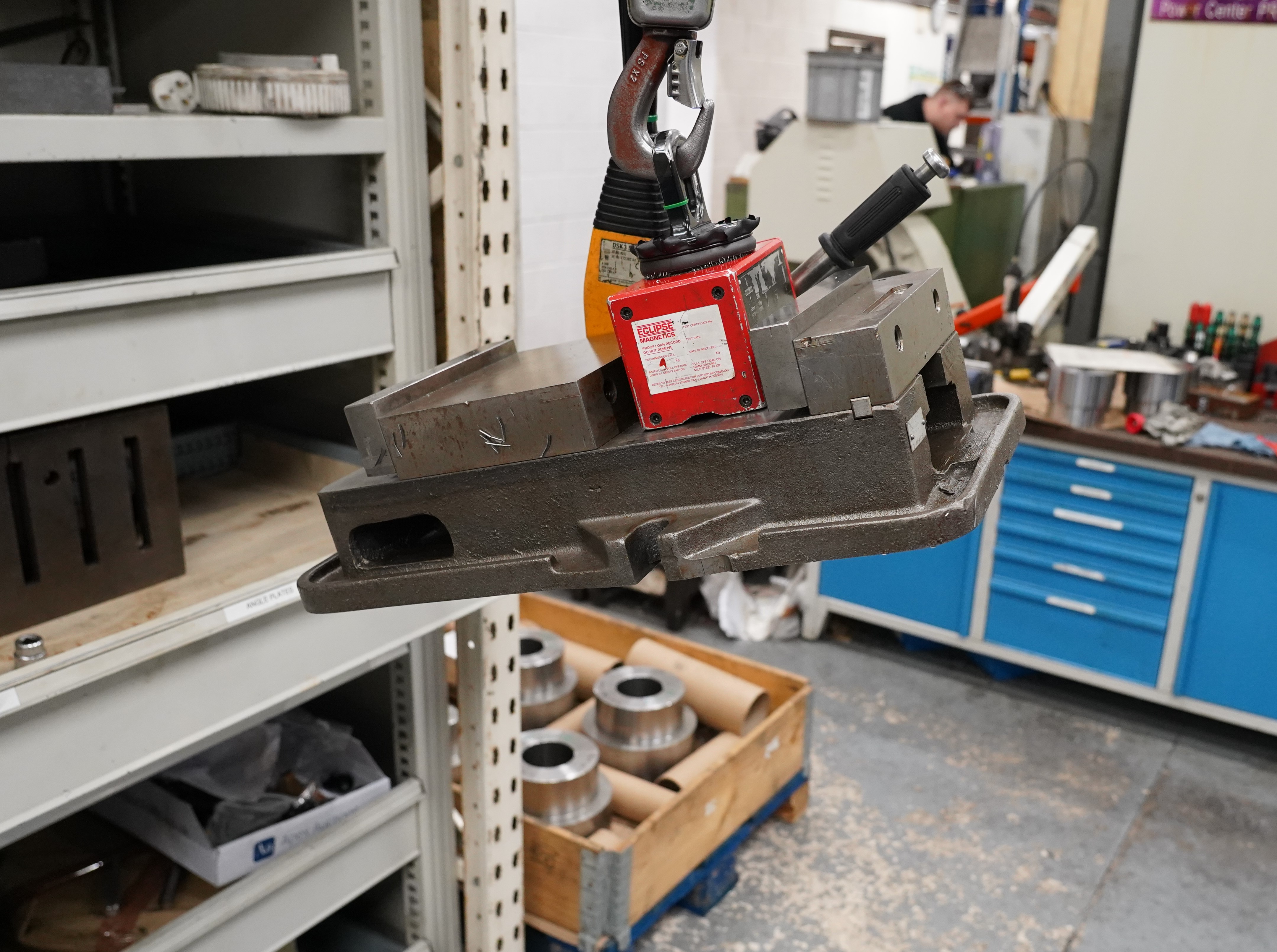 Precision engineers M. Thornton Engineering Ltd. are the latest company to see the attraction of magnets. They are now benefiting from integrating both Eclipse Magnetics magnetic lifters and magnetic filters into their manufacturing processes.
Based in Huddersfield, West Yorkshire, the family-run business provides sub-contract precision services such as CNC turning, CNC milling, and wire erosion. They serve a wide variety of markets, manufacturing steel, stainless steel, cast iron, and nickel alloy components for sectors such as environmental, transmission, hydraulics, and 3D printing.
They first approached Eclipse Magnetics when they were looking for a safe, efficient method of moving steel blocks and tools on a hoist system around their workshop. They were supplied with two Ultralift+ 250-kg magnetic lifters. The Ultralift+ requires only single-face access to the load and only single-person operation using the standard engage/release handle. The integral safety mechanisms mean the load cannot be released while in mid-lift, which was an appealing factor to the health and safety-conscious company.
Stuart Thornton, Production Director, comments, "The Ultralift+ lifters have been a great addition to our site. They are simple to use, and a big factor for us in our selection was the "peace of mind" integral safety mechanisms and satisfying our ISO 45001 accreditation. We also liked the fact that Eclipse Magnetics also provides the annual service and repair, so we can guarantee they are always in safe operating condition".
As an accredited ISO9001 and ISO14001 company, M. Thornton is constantly striving for continuous improvements in production efficiency, product quality, and waste minimization. They were reviewing ways of reducing the use of consumable filter cartridges, coolant, and replacement milling tools.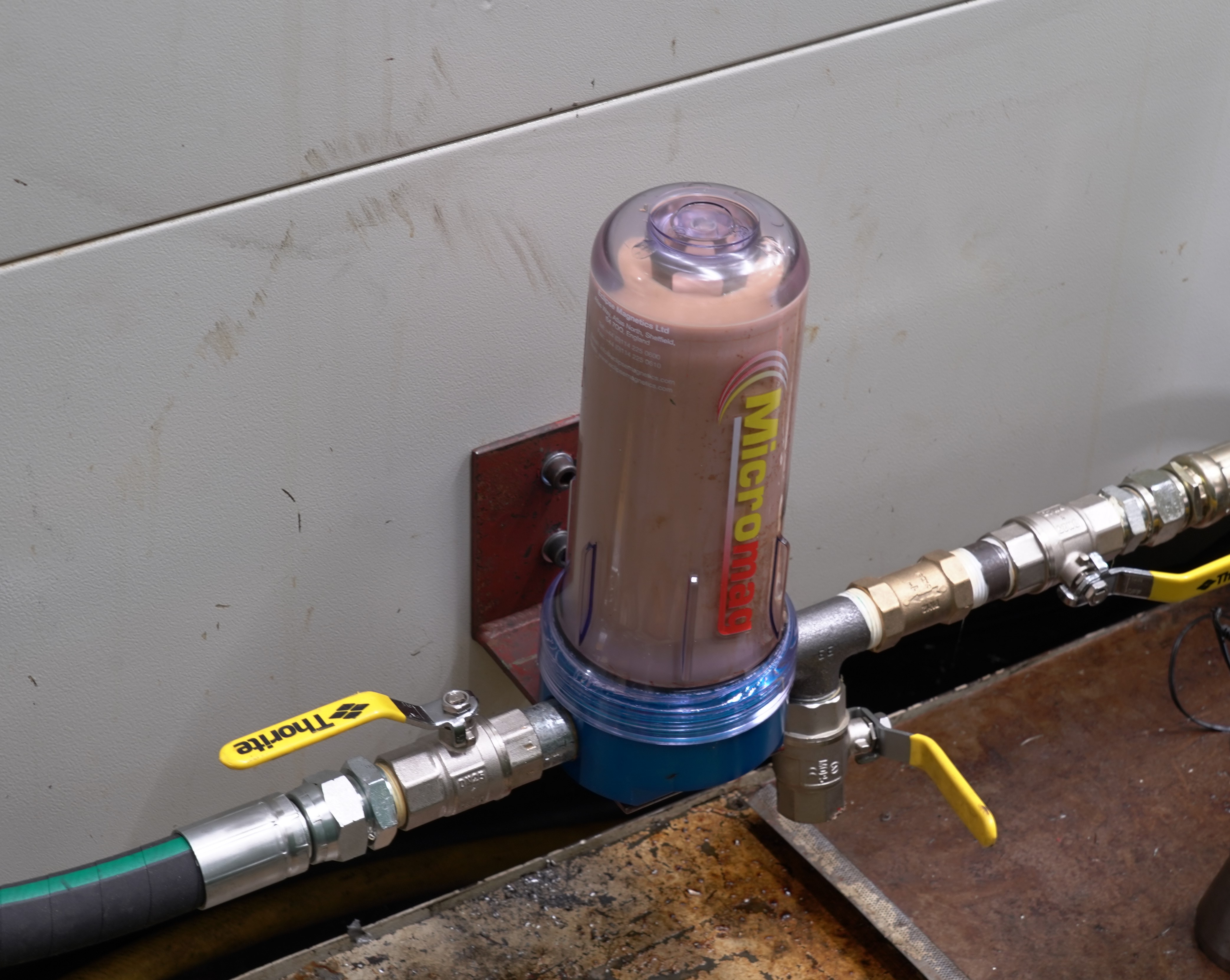 Typically, on one of their vertical milling machines, when machining cast iron, a filter cartridge would have an expected life of approximately 2 weeks. Each cost £110 to replace, not to mention the cost and environmental impact of disposal. Also, a typical cutting tool life could be as little as 30 minutes when machining cast iron to maintain the required quality tolerances. Each new tool costs £80 to replace. Fluid consumption was also a challenge; typically, coolant needed replacing every 2 weeks at an approximate cost of £200.
They recognised that the key to achieving improvements was cleaner machine tool fluids and decided to trial the Eclipse Magnetics Micromag magnetic filter. Micromags were installed on two Hartford Power-Centre Pro 1000 vertical milling machines. The filters were fitted on the return from the tank to the machine just before the through coolant pump and cartridge filter.
The cartridge filters have a mesh size of 20 microns, which effectively means that any particles smaller than this continue to circulate and contaminate the coolant. Micromag magnetic filters capture the smallest particles right down to sub-micron size, thereby cleaning up the fluids. Already, there have been significant improvements in tool, cartridge, and fluid lifespans.
Stuart comments again. "It's early days, but so far the Micromag filters have made a positive difference to our process; we've significantly reduced our cartridge usage, which is great for our ISO 14001 targets, and saved some money too. They are simple to maintain and require no consumables. All in all, magnets have made a real difference to processes."
To find out more about the range of services offered by M. Thornton Engineering Ltd visit mthorntoneng.com