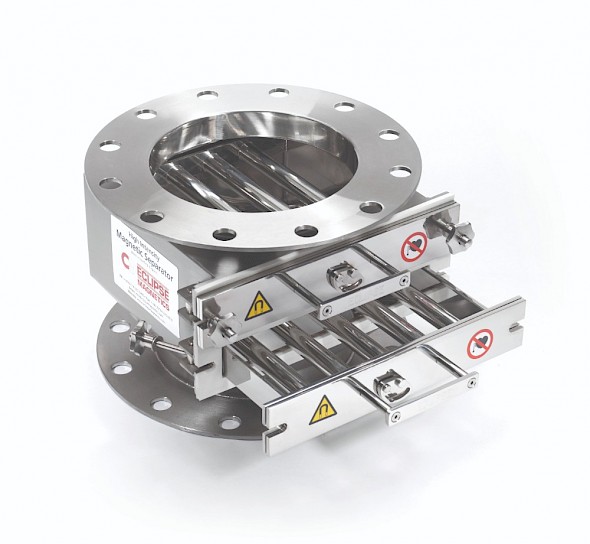 Hover to zoom
Housed Easy Clean Grid Magnetic Separator
Easy clean, high intensity magnetic separator grids or separator grates
Separating fine iron metal contamination or fine wear particles from the processing line
Ideal for gravity fed dry powders and granulate
Easily installed into existing chute work
Multiple sizes available
ATEX version available
Single, double, triple and quadruple row versions available
Overview - Housed Easy Clean Grid Magnetic Separator
Fine particle metal separation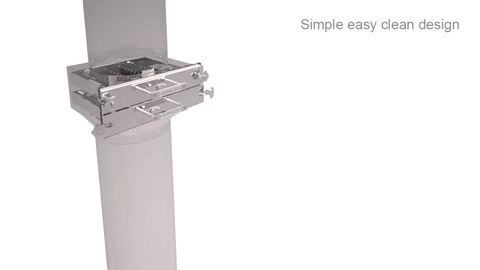 Offering unsurpassed levels of contamination removal, removing sub-micron ferrous and para-magnetic contamination from the most demanding and arduous of process environments. Our magnetic metal separator units contain one high intensity easy clean magnetic grid or grate. The grid is secured into the housing by tri-cone locking nuts, ensuring even pressure is generated around the food grade seal.
It is common to have many of these units installed throughout a processing facility in order to ensure contamination is removed at the source of generation. All dry powders and granular type materials can be processed through the unit. Electrical safety interlocks can be fitted to the grid to stop the process should it be accidentally opened.
When the unit requires cleaning, simply remove the outer grid or grate securing tri-cone locking nuts and remove the grid from the housing. Remove the central tri-cone locking nut and separate the grid assembly, allowing all attracted contamination to simply fall away.
Also available for double, triple and quadruple housed easy clean grid magnets to increase high level of contamination removal.
Applications
Suitable for magnetic separation to dry powders and granulates
Can be installed at inlet/outlet points, pre-silo or post-silo and machinery points
Benefits
Our Housed Easy Clean Grid Magnetic Separator is Easy to clean
High collection capacity of metal contamination
Removes micron sized contaminants
Reduces 'spark' risk
Performance
Magnetic performance: 7000, 9000 and 10000 gauss
Performance reading: On tube surface
Magnet grade: N35 & N45 - Inspected and confirmed via hysterograph prior to use
Temperature: -20°C / +90°C
Pressure: + / - 0.2 Bar
Construction
Magnetic Material: Rare Earth Neodymium Iron Boron - (NdFeB)
Housing: 316 grade stainless steel
Tubing: 316 grade stainless steel
Sealing: Self adhered white foam
Tri-cone nuts: Stainless steel
For pneumatic feed separation see Pneumag