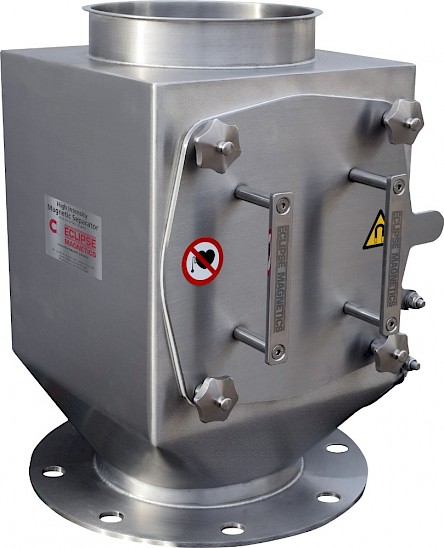 Hover to zoom
Rota-Grid Separator
Removes ferrous contamination from substances prone to bridging or caking
Rotating magnetic grid ensures continuous flow
Ideal for dry and semi-dry powders and granulate such as starch
Includes easy clean magnetic cartridge to minimise cleaning downtime
ATEX approved versions available
Overview - Rota-Grid Separator
High intensity magnetic separator for dry, semi-dry powders and granulates
The Rota Grid unit comprises of a centrally mounted magnetic rota which incorporates several "Easy Clean" magnetic rods. This rotates to gently agitate the product, therefore preventing any blockages and ensuring flow continuity.
Whilst the primary function of this unit is to extract ferrous contamination from product that is prone to caking or bridging, the rotary action of the grid means contamination is presented to a greater number of magnetic surfaces than a standard fixed grid, offering even more effective contamination removal.
The Rota-Grid magnetic separator can be supplied to Pharmaceutical standards if required.
Applications
Suitable for the magnetic separation of dry and semi-dry powders and granulates
Can be installed in any vertical process line
Benefits
Housed easy clean grid magnets are easy to clean
High collection capacity of contamination
Removes micron sized contaminants
Reduces 'spark' risk
Performance
Magnetic performance: 7000, 9000, 10000 (Easy clean), 11000 (Fixed) & 12000 (Fixed) Gauss
Performance reading: On tube surface
Magnet grade: N35 - Inspected and confirmed via hysterograph prior to use
Temperature: -20°C / +60°C
Pressure: + / - 0.2 Bar
Electrical Specification: 400v industrial three phase IP65 rated motor gearbox
Construction
Magnetic Material: Rare Earth Neodymium Iron Boron - (NdFeb)
Housing: 316 grade stainless steel
Tubing: 316 grade stainless steel
Other Parts: 316 grade stainless steel
Sealing: Self adhered white foam
Surface finish: Brushed internally / Polished externally to 1.2μm
For automated clean rotating separator see Auto-Rota Shuttle
"We were delighted with the service provided by Eclipse Magnetics; from the initial site survey through to delivery."
"I cannot begin to tell you how much it has helped our operation, the magnetic filtration unit has been a real problem solver it has surpassed all our expectations. Its cured a 30 year plague!"
"This technology is economical, reliable and efficient. I believe that magnetic filtration technology is the future."
"Magnetic filtration has dramatically cleaned up our fluids and improved the surface finish we can offer. It extracts around 50Kg per day of ferrous waste."
"We chose Eclipse Magnetics to supply our housed grid because they are a respected and well-established brand. They offered us a very competitive price, and the process of ordering and installation was straightforward and reliable."
"We are delighted with the Automag installation; it's solved all the problems we were having previously with downtime and maintenance costs. The filter means that we are able to use recycled water, which is saving us £1000 per week!"
"Here at Qualflow, we base our business on a philosophy of make the product simple to use, reliable and cost-effective. Eclipse Magnetics' neodymium magnets offer the strongest magnetic performance, and are nickel plated, making them a cost effective.."
"The Ultralift Plus magnetic lifter from Eclipse Magnetics is the perfect solution for the pick-up and transportation of the ultrasonic calibration blocks in our facility"
"The result is an aesthetically pleasing system, which is effective in trapping metal contaminants and is easy to clean..."