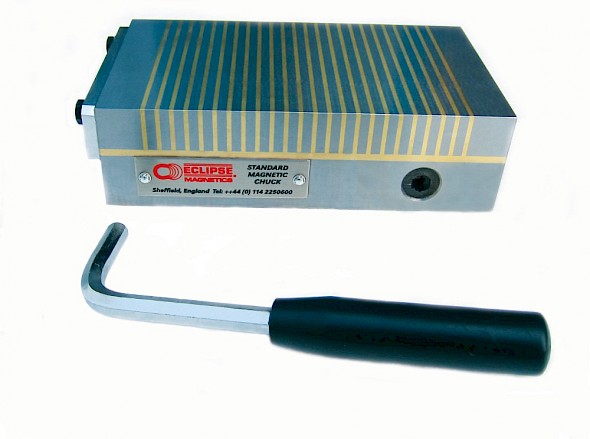 Hover to zoom
Rectangular Standard Chuck
Fast, accurate clamping for grinding and machining components
All metal top plate - high accuracy and long lifespan
High corrosion resistance - resists damage from coolants
Chrome plated side and end stops - accurate location
Overview - Rectangular Standard Chuck
Cost effective, fast and accurate clamping in grinding applications
Cost-effective permanent magnetic chucks for grinding applications, fine or standard pole options. Our Standard range chucks provide high performance at an extremely competitive price. Available in a choice of 2 pole formats, the standard chucks are manufactured from steel and brass with neodymium magnets located in the top plate to enhance performance. Ideal for thin and small workpieces from 3mm to 0.7mm. Thick Standard pole - ideal for clamping thicker workpieces >3mm.
Base plate - for fixing to a machine bed (clamps supplied)
Simple on-off switching - removable operating handle
Failsafe permanent magnetic technology
See how rectangular grinding chucks provided efficiencies on a Friction Stir Welding application.
Model Variations
Product Number
Length (mm)
Width (mm)
Height (mm)
Weight (kg)
Standard
ERSP1018
180
100
50
9.5
ERSP1325
255
130
50
15
ERSP1530
300
150
50
20.5
ERSP1535
350
150
50
23.5
ERSP1545
450
150
50
30
ERSP2060
600
200
50
52
Fine
ERFP1018
180
100
50
9.5
ERFP1325
255
130
50
15
ERFP1530
300
150
50
20.5
ERFP1535
350
150
50
23.5
ERFP1545
450
150
50
30
ERSP2060
600
200
50
52