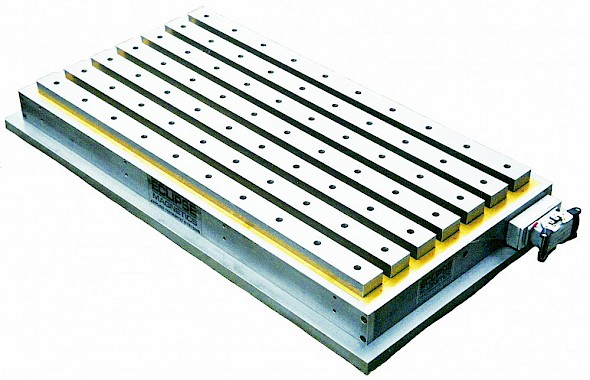 Hover to zoom
Supermill Magnetic Chuck
Enables faster feed rates and greater accuracy in precision milling
Failsafe magnetic technology - maintains hold even if power is cut
Maximises feed rates - no time wasted fitting and positioning clamps
Uniform clamping - eliminates vibration
5 side access to the workpiece
Push button remote control
Supplied with pole extensions
Instantaneous 10 tonnes per ft of clamping force
Overview - Supermill Magnetic Chuck
Fast, fail-safe clamping
The ultimate permanent electro-magnetic chuck for heavy duty milling applications. Supermill is constructed from solid steel and brass; it incorporates high intensity neodymium magnets to ensure an extremely robust, high performance clamping system. It is ideal for steel plate from 15mm to 300mm thick. Supermill outperforms traditional clamping systems and other milling chucks, offering several process advantages.
Supermill cuts cycle times by 70% . This actual example shows how Supermill can make an enormous difference to production efficiency.
Example: A batch of 50 plate steel components, each one measuring 2.06m x 1.045m x 16mm thick with a machining path length of 6.21m are machined on a 40 H.P. milling machine with a 5.5m long bed. A carbide cutter is used to mill a 45 degree profile at a feed rate of 610mm/minute.
Using traditional mechanical clamps (12 required).
Time taken to load each component, clamp, remove the workpiece and clean the bed (20 minutes)
Obstructed cutting path, time taken to remove and re-position the workpiece to gain access to all faces (36 minutes)
Time spent cutting the component (10.2 minutes)
Total cycle time per component (66.2 minutes) Using Supermill
Time taken to load each component, position, clamp and clean (10 minutes)
No time taken to re-position as access is available for machining 5 sides (0 minutes)
Time spent cutting the component (10.2 minutes)
Total cycle time (20.2 minutes)
Model Variations
Product Number
Length (mm)
Rating
Thickness (mm)
Weight (kg)
Width (mm)
Length (in)
Width (in)
Thickness (in)
Weight (lb)
SM2618
260
4
95
42
180
10.24
7.09
3.74
92
SM4518
450
8
95
67
180
17.72
7.09
3.74
147
SM4525
450
12
95
89
250
17.72
9.84
3.74
196
SM4532
450
16
95
110
320
17.72
12.6
3.74
242
SM4539
450
20
95
132
390
17.72
15.35
3.74
290
SM4546
450
24
95
153
460
17.72
18.11
3.74
337
SM6318
630
12
95
83
180
24.8
7.09
3.74
183
SM6325
630
18
95
110
250
24.8
9.84
3.74
242
SM6332
630
24
95
140
320
24.8
12.6
3.74
308
SM2625
260
6
95
55
250
10.24
9.84
3.74
121
SM6346
630
36
95
191
460
24.8
18.11
3.74
420
SM6339
630
30
95
165
390
24.8
15.35
3.74
363
SM6353
630
42
95
220
530
24.8
20.87
3.74
484
SM6360
630
48
95
246
600
24.8
20.87
3.74
484
SM8118
815
16
95
175
180
32.09
7.09
3.74
385
SM8125
815
24
95
210
250
32.09
9.84
3.74
462
SM8132
815
32
95
236
320
32.09
12.6
3.74
520
SM8153
815
56
95
315
530
32.09
20.87
3.74
693
SM8139
815
40
95
262
390
32.09
15.35
3.74
576
SM8146
815
48
95
288
460
32.09
18.11
3.74
634
SM8160
815
64
95
341
600
32.09
23.62
3.74
750
SM8167
815
72
95
370
670
32.09
26.38
3.74
814
SM10018
1000
20
95
139
180
39.37
7.09
3.74
306
SM10025
1000
30
95
188
250
39.37
9.84
3.74
414
SM10032
1000
40
95
238
320
39.37
12.6
3.74
524
SM10039
1000
50
95
287
390
39.37
15.35
3.74
631
SM10046
1000
60
95
336
460
39.37
18.11
3.74
739
SM10060
1000
80
95
435
600
39.37
23.62
3.74
957
SM10053
1000
70
95
385
530
39.37
20.87
3.74
847
SM10067
1000
90
95
485
670
39.37
26.38
3.74
1067